Concert Reviews
Details

Category:

Written by

Akill
Inkubus Sukkubus
Still Patient?
Das Fluff
Death Disco, Athens, Greece
Saturday 26 January 2019
---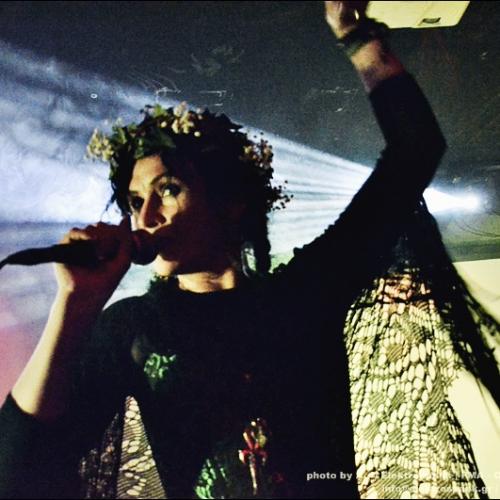 This night is definitely a night which any goth rock fan should have not missed.
Two of the most known bands when it comes to gothic rock were on the same stage on their 30 years anniversary. This and only this, is a very good reason to attend this concert.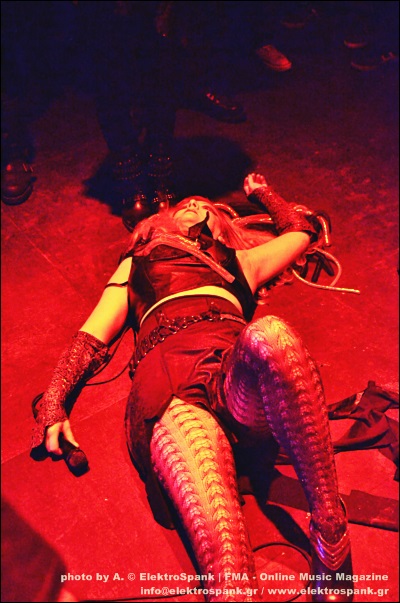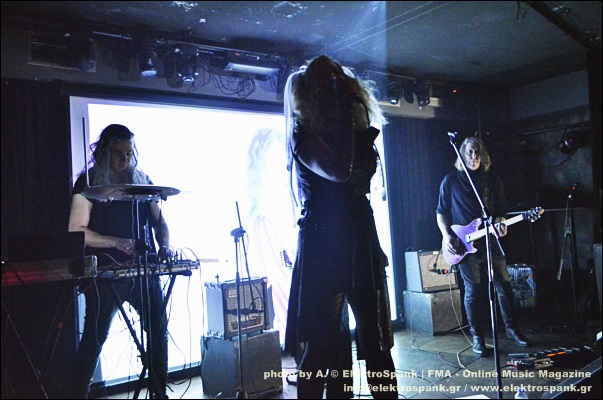 The show began with the live performance of Das Fluff. Das Fluff is a post-punk band with experimental, filthy electro sound added to traditional punk chords and instruments. My first time at their show and I can say that they are really interesting with beautiful and powerful setlist, Dawn Lintern is the woman with the voice for Das Fluff, while she transforms to a wild punk rocker with her guitar on hands. A show combined with a bit of theatrical mood. Das Fluff opened the show quite well, as they were on stage for a half an hour. My personal favorite, "Millennial". I really wanted to listen to "Obey" but I missed it since I was 5 minutes late and it was their first song.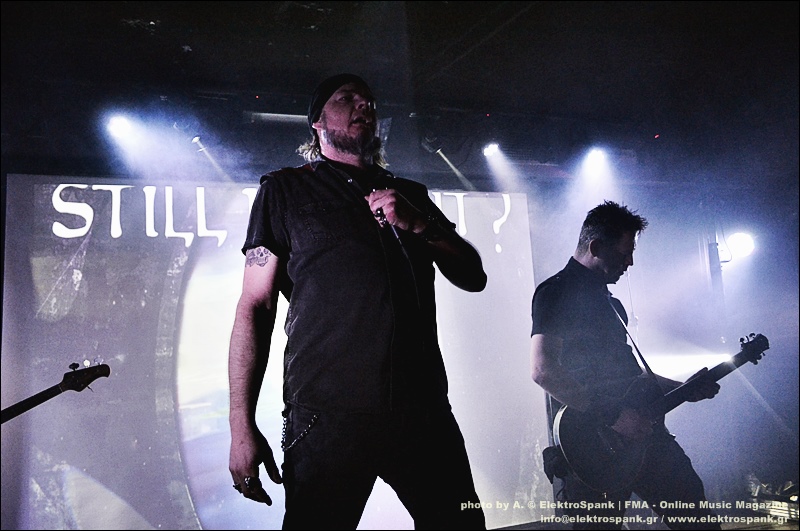 The time had come for the legendary Still Patient?. Really old school gothic rock from the golden era of the genre, late 80's and 90's. This band was one of the most anticipated, since it was their first ever show in Greece and they have a number of dedicated fans and followers. As soon as they came up on stage the crowd was thrilled and started screaming... Sometimes very loud! The beginning was a special intro for Greek fans, since the started with the riffs of the beloved "Shadow of the Empire" which turned into "Mascara Osiris". Two of the classics of gothic rock scene. 
The contact between Still Patient? and their fans was amazing. It was a real party. Band members and Andy Koa established a great communication with the crowd throughout the whole concert. Whatever Still Patient? would play that night one thing is for sure. It would be greatly approved and danced by the crowd. Their setlist consisted of some of their biggest hits from the early years combined with their latest releases "Zeitgeist Weltschmerz", "Shape Shifters"... Songs that we heard was, among others, "The Ghost of Tides", "My Darkness Divine", "Breathe", "Chameleon". As the set was coming to the end, it was getting even better and the closing tracks were another package of classics with "Anavryn" and "Agoraphobia". Still Patient? had another surprise for the Greek audience since they finished their set with a track they hadn't played for 25 years now and that was the "Sweet Messiah".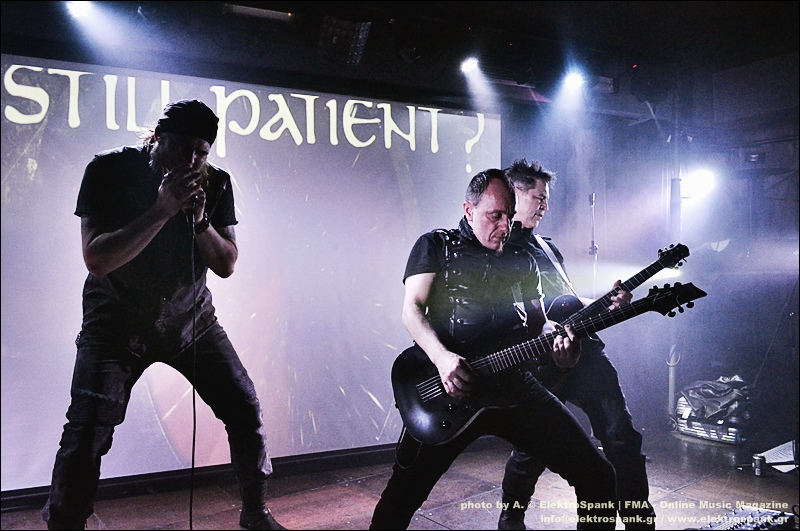 I think that Still Patient? are one of the biggest representatives of the 90's gothic scene and they proved it without any doubt. Great performance and hopefully we 'll see them again.
Everything was as scheduled and some minutes after the Still Patient?'s show another legendary band took place on stage. Probably the greatest pagan gothic rock band since late 80's, Inkubus Sukkubus.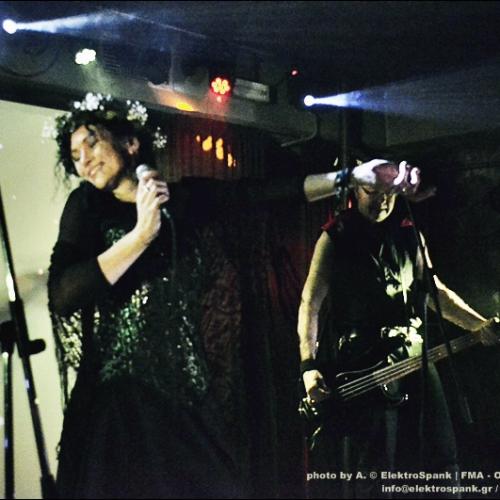 Candia McKormack, Tony McKormack and Roland Link came up and an amazing 30 years anniversary set started. Inkubus Sukkubus began their set with a new track from their latest same titled album "Vampire Queen". Candia was once again in great shape and dancing all over the stage, while Tony and Roland performed really well with their guitar and bass. The list had some great and classic gothic songs like "The Goat" with the known moves of Candia, "Heart of Lilith", the hit "Vampyre Erotica", a beautiful and well-known cover of Rolling Stone's "Paint it Black", "Angel of Lust" among others. Inkubus Sukkubus, in concern to the contact with the crowd, continued where Still Patient? have left. Very good communication from both sides. Especially when the first riffs of "Belladona & Aconite" was heard (watch the video below). Really good performance of a classic gothic hit. Right after "Away with The Fairies" and "Messalina" the concert was coming to an end with another classic hit "Wytches". Again, perfectly performed by the band. While that was supposed to be the last one for Inkubus Sukkubus show in Athens, the audience force them to stay a little bit more on stage, playing once more "Vampyre Erotica". Beautiful end for an amazing evening.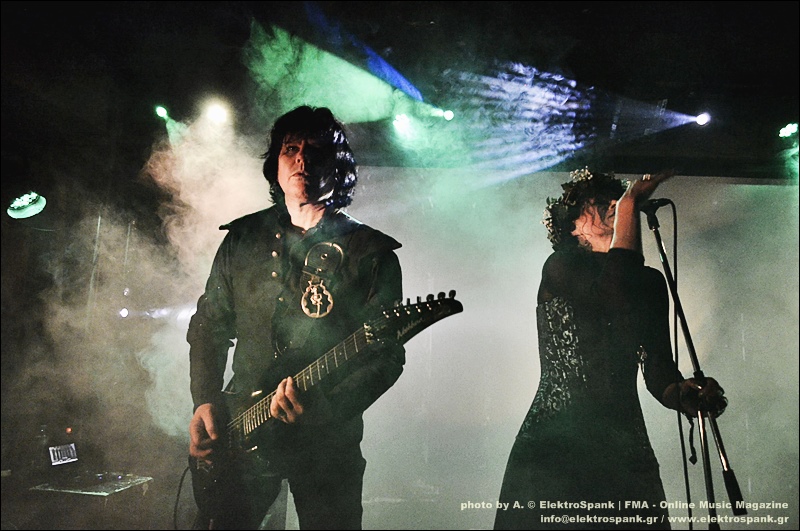 Inkubus Sukkubus had started their 30 years anniversary events in Greece and I believe that this coincidence helped both, the band and the crowd, to express their pleasure and gratitude for all these years of pure gothic music. Great show and appearance once again from this band, in Greece.
To sum up, I think this night was unexpectedly good for everyone. Even Das Fluff had the chance to introduce themselves to the Greek audience and I believe the result was good. As for the two gothic rock legends, Still Patient? and Inkubus Sukkubus, probably their performance was beyond of what I was expecting and I am thankful for this. Until the next time...
Inkubus Sukkubus at Death Disco gallery
Still Patient? at Death Disco gallery
Das Fluff at Death Disco galery
"Belladona and Aconite" live in Athens, Death Disco