Interviews
Details

Category:

Written by

Akill
 KMFDM is going out on tour with Ministry and FLA, and Sascha speaks about a band which defines the industrial rock sound. The Ultra-Heavy Beat.
---
With great pleasure, I present you KMFDM. A pillar to the industrial rock genre with an amazing music impact, KMFDM considered to be one of the bands that brought industrial music to the mainstream audiences. Started back in 1984 as an art project of the founder Sascha Konietzko, better known by his stage name Sascha K and Käpt'n K, KMFDM combined the industrial tones with hard and heavy metal guitar riffs, while using male and female vocals. 
In 2019 KMFDM released their latest full length album, "Paradise", keeping all the tension that their, old school, fans love, while the adopt new elements and experiment with new sounds.  2020 started with an announcement of an amazing tour for Sascha and the rest of the band, since they will hit the roads along with Ministry and Front Line Assembly, on the occasion of the 30th years anniversary of Ministry's, "The Mind Is A Terrible Thing To Taste". 
We have spoken with Sascha about the band, the music, the past, the present and what follows...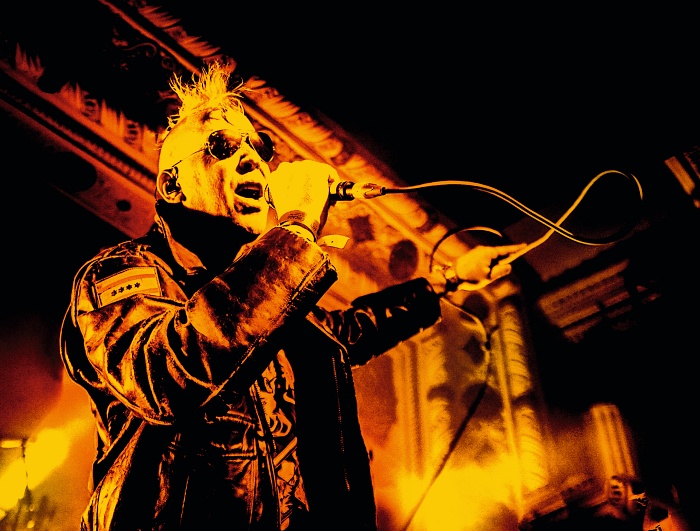 ES: Hello Sascha. First off, I'd like to thank you for doing this interview. There are many things happening with the band these days. Although, there is no need for an introduction of KMFDM, would you like to start off by introducing the band and or saying something to our readers?
Sascha: Hi there, pleasure to meet you! I started KMFDM in 1984, February 29, in Paris, France. It began as an audio accompaniment to an exhibition of young artist group ERSTE HILFE (first aid) from Hamburg and Cologne. After several performances at art galleries and the like i bought an EMAX sampler and began to construct less noisy, more musical compositions that in turn i recorded, then released as a vinyl album, which by strange ways and many detours found its way to Chicago into the hands of the owners of WAX TRAX Records. They facilitated an invitation for KMFDM to open for Ministry's The Mind Is A Terrible Thing To Taste US-Tour which introduced KMFDM with one big bang to American audiences, that tour having been one of the most legendary Rock'n'Roll Tours of all time. A 10-year tenure with WAX TRAX and later with the people that took over the company after a draw nout bankruptcy process, followed. In the year 2000 i changed the name to MDFMK and released an album on Republic/Universal Records, in 2002 returning back to the KMFDM moniker and since then, mostly releasing on KMFDM Records / Metropolis Records (with a few exceptions) another 11 albums. Now in 2020, after 36 years as KMFDM with 21 studio albums under the belt we're heading out yet once again with Ministry (and Front Line Assembly) to celebrate the 30th anniversary of the Mind Is A Terrible Thing Tour.
ES: Well, there are so many things to discuss, as I said. KMFDM has pioneered the underground electro rock sound and have been active for more than 35 years. In 2019, a new album called "Paradise" was released. Can you tell us about the actual creative process surrounding the new release?
Sascha: The creative process is always based on modular working processes. I start a track, hand it on to Lucia, she may or may not come up with an idea, then it get's passed around to Andy Selway (drums) and Andee Blacksugar (guitar) who live on the other side of the Atlantic ocean, in Southern Florida and NYC, respectively. Once everybody has left their marks on the track I mix it and move on to another one.
ES: Over the years you've been characterized by the media and fans as a socially conscious band with deep political feelings that are embedded in your lyrics. Which are the main subjects behind the lyrics on "Paradise"? What, in your words, is the concept and message behind the new album?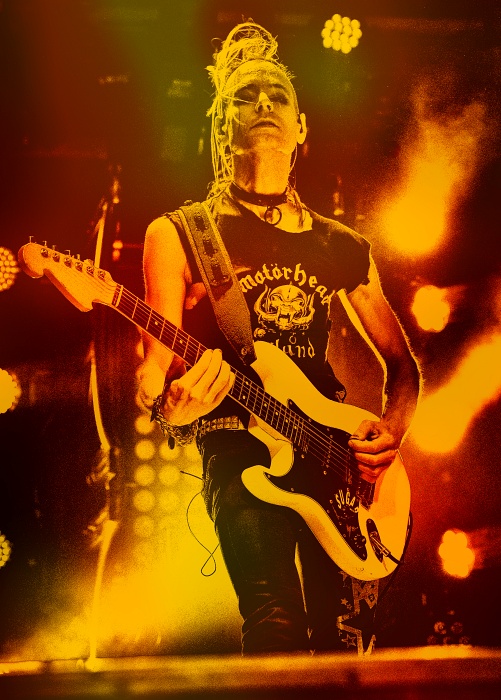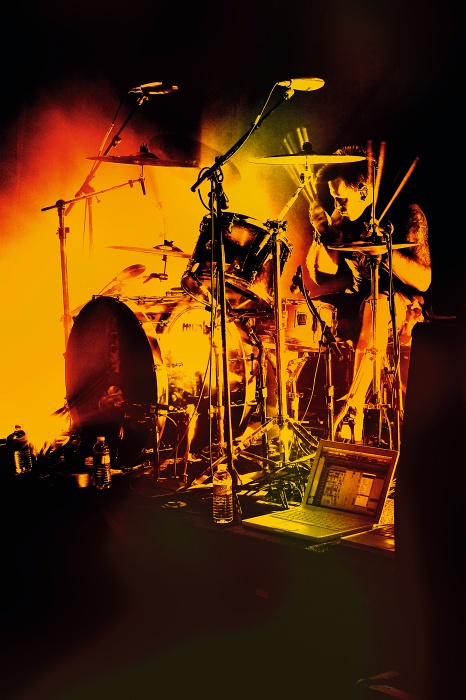 Sascha: Again, the concept is a certain continuity, i believe artists to be mirrors of their surroundings, each KMFDM album is like a number of snapshots in a family photo album, denoting a certain timespan in the timeline of KMFDM's existence. Politically charged lyrics interest us more than talking about things we ate or how we feel when we wake up in the morning. KMFDM has always been critical of power, money, religion and prefabricated opinions, instead we believe in the empowerment of women, in justice to all and independent thinking.
ES: Listening to "Paradise" someone can distinguish a variety of different styles, influences and genres. Although, some of your fans are enthusiasts of industrial music, if you had to label your sound what would fit KMFDM's music the most? How would you describe the sound of "Paradise"?
I described KMFDM's sound as The Ultra-Heavy Beat since our earliest days, it cannot be simply labelled as 'this' or 'that', there are too many different aspects and influences being shaped into what we do.
ES: On "Paradise" there are some truly great collaborations and contributors. Such as Lucia, whose involvement seems integral to the band, Andy Blacksugar was well as Raymond Watts who is back after 16 years. Can you tell us some things about theses collaborations as well as the talented people that contributed to the making of "Paradise"?
Sascha: Blacksugar is a member of the current line up since 2017, Watts made a guest-appearance for good times' sake after 16 years of doing his own stuff, Doug Wimbish is an excellent bassist and a friend, and of course Lucia and i form the backbone of KMFDM.
ES: I couldn't help but notice that just in the last few days, a magnificent tour was announced that features KMFDM, Ministry and Front Line Assembly. It was announced that the tour is in honor of the 30the anniversary of Ministry's album, "The Mind Is A Terrible Thing To Taste." The tour will be called "The Industrial Strength Tour," are you excited by the potential and possibilities? Is there anything you can tell us about this tour, perhaps how it came about along with the infamous original tour back in 1990?
Sascha: see above (1)
ES: During your many years involved in the dark electro, industrial and rock scene, can you recall what you would perceive as your favorite moment? Perhaps there are more than one. But, tell us the first that comes to mind.
Sascha: My favorite moments are when we all have arrived safely back home, wherever that may be for anyone, after having finished a tour.
The stress, danger, excitement, possibilities for things to go really wrong, the sleepless weeks, the bodily exhaustion, when all that falls of and becomes a part of memory, ceasing to be all around me for the time being, that is what i love.
ES: It is great to having you in ElektroSpank | FMA. Would you like to share anything else with us and our readers about projects, videos, news?
Sascha: I am currently putting the finishing touches on an album containing 10 or so dub-reggae versions of newer and older KMFDM songs, entitled KMFDM - IN DUB, which i hope to get released in time for this years touring season. It might also be of interest to mention that we have booked a 2-week tour of Europe in the second half of May and will be headlining the HRH Goth festivals and a gig in Glasgow mid-september this year.
ES: Thank you very much Sascha. Wish you the best!
*** If you need more KMFDM and Sasche talks check this interesting interview in our friends EL GARAJE DE FRANK - magazine.
Info:
https://www.facebook.com/officialkmfdm/