News
Details

Category:

Written by

Akill
Dark scene festivals are back in Athens with Morphic Festival and Morphic Nights, by TMR Entertainment Group.
---
Sometimes, it only takes a man and his love for dark wave, post-punk scene to turn it into two amazing nights, filling the Athenian air with the coldest soundscapes, the gloomiest ambience and with addictive riffs, beats and voices. And this man has found the people that support this love and vision and there it is. A new event, that is here to stay, is born. 
Morphic Festival, Saturday, October 8th and Morphic Nights, Friday, October 14th, were born as an idea from Panos Kekesis and became to reality with the support from TMR Entertainment. And Morphic came out, as all the great ideas, somewhere between a few glasses of alcohol, listening to music and hanging with friends. Morphic is all about gathering friends and bands that represent the localdark wave scene but it won't stay there. The crew behind Morhic have big plans and they are not afraid to make it happen.
Morphic events are taking place in Lunar Space Athens with a great setup and equipment and all these makes it the first open-air dark wave, post-punk, dark synth festival in Greece. And the whole idea is based upon the willing for all to have the greatest time. Including the bands, the people behind the stage and mainly the fans that will be there to support all this.
Additionally, there is strong wish to gather together all the fans of the dark wave scene leaving behind and out of Lunar Space all the bad energy and problems of everyday life.
Morphic Festival, Oct. 8th, Lunar Space Athens
https://www.facebook.com/events/578237030706007
In Moprhic Festival dark melodies, analog synthesizers, drum machines, intense rhythmic elements, dark wave atmosphere, minimal aesthetics & visual projections, are combined under the moonlight on the Lunar Space stage.
Convex Model, Kalte Nacht, Gray Gallows & Incirrina are coming on Saturday 8th October to headline this year's 1st Morphic Festival.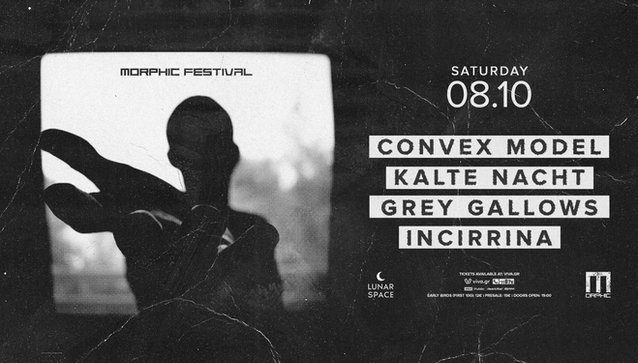 Four of the best bands in Greece and in Europe with numerous releases, live shows and collaborations. Influenced by analogue sounds, synth wave, post punk and dark wave. 
Convex Model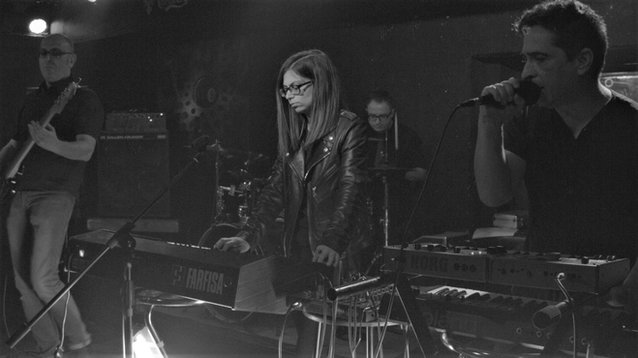 Convex Model is a synth wave band and started from Thessaloniki in 2017. To date they have released a cassette and 2 LPs. Their sound is based on analog synthesizers, bass and drums and is influenced by post punk and new wave of the 70s and 80s. The composition of the band consists of: Nikos Kapantzakis synthesizer and voice, Eleni Tzouna synthesizer, Giorgos Pappadopoulos bass, Kyriakos Tsakalides drums and Stavroula Tsiara lyrics.
https://www.facebook.com/convexmodel
Kalte Nacht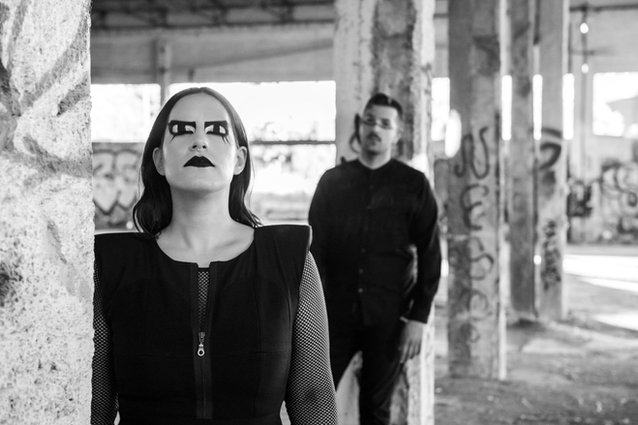 Starting as a solo project in 2017 by Nikos Konstantinidis, which soon evolved into a duo with Myrto Stylou on vocals, Kalte Nacht combine dark wave urban aesthetics with atmospheric inner soundscapes, expressed through haunting vocals, analog synthesizers and drum machines. Inspired by the Athenian underground scene, deep inner feelings, human relationships and everyday interactions, they challenge the boundaries of the fine line between shadow and light, interacting with the listener, not only through the albums, but also through each unique live performance. All of the above is reflected in their first self-titled album released in March 2020 by Geheimnis Records in digital format and vinyl, which sold out in the very first months of its release. It has been presented through several live performances, in some of the most important Greek venues as well as European festivals, such as Wave Gotttik Treffen and Sinner's Day. In March 2021, the digital single 'Our Moments Are Answers' was released along with the official video clip of it. Kalte Nacht are now working on their next album, which will be released in 2023.
https://www.facebook.com/KalteNachtDuo
Incirrina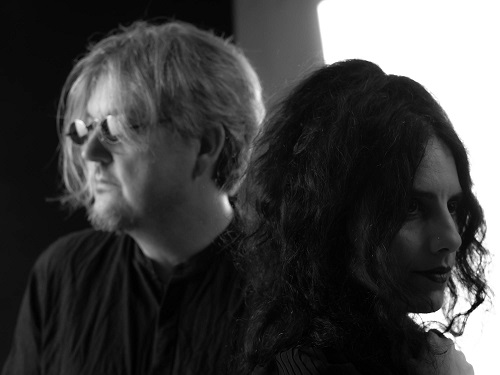 Incirrina (electronic/minimal synth duo) was formed in September 2017 in Athens by George Katsanos and Irini Tiniakou. Their music is characterized by the use of electronic sounds from mainly analogue synthesizers and dark melodies combined with strong rhythmic elements. They have appeared in concerts in Greece and abroad, as well as at the Athens Digital Arts Festival (ADAF) and the "Pliisken Festival", they were also awarded an award for their participation in the "Syd Sessions Go ADAF" in September 2021. Their first album entitled "8.15", inspired by the poetry of William Blake, was released in October 2019 by Geheimnis Records. In November 2020 the digital maxi single "Utter" was released and in July 2021 the 7''split single "Devastations-R.Daneel" along with "The Man & His Failures" from Smash Records. Their 2nd album "Lip Led Scream" is released on 19.08.2022 by Cold Transmission.
https://www.facebook.com/Incirrinaband/
Grey Gallows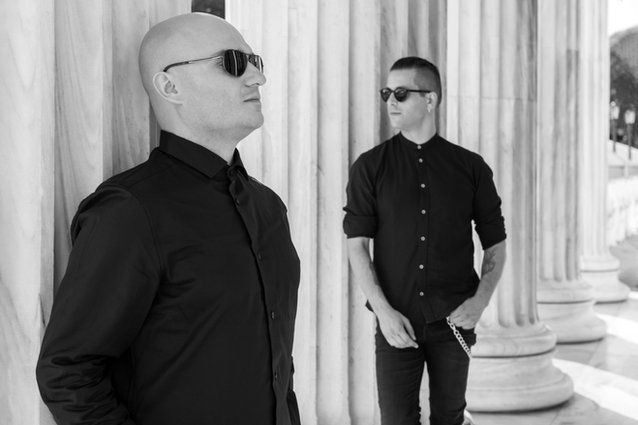 Gray Gallows is a darkwave group formed in Patras in 2016. Their influences are based on the broader dark sound of the 80s. The subject matter of their lyrics deals with topics from inner struggle to healing the individual, through dark emotions. Several singles have been released so far, the mini album "Beyond reflections" (2017) and 3 full albums, "Tears" (2018 - In Club Records), "Shades" (2019 - Secret Sin Records) and "Garden of Lies" ( 2021 - Cold Transmission). In concert, they have performed live as an opening act for Spiritual Front and Antimatter and have also appeared on stages abroad such as in Switzerland with Letten 94 and Iamnoone and recently participated in the Cold Transmission festival in Cologne with groups such as Incirrina, The Ending Nights, Cirque d'Ess, Iamnoone, Ultra Sunn and IAMTHESHADOWS. They are currently completing their 4th album, which will be released by Cold Transmission.
https://www.facebook.com/profile.php?id=100053636354364
MORPHIC NIGHTS, Oct. 14th, Lunar Space Athens
https://www.facebook.com/events/1265891140849104
*** UPDATE - Night In Athens has been replaced by Eddie Dark for Morphic Nights!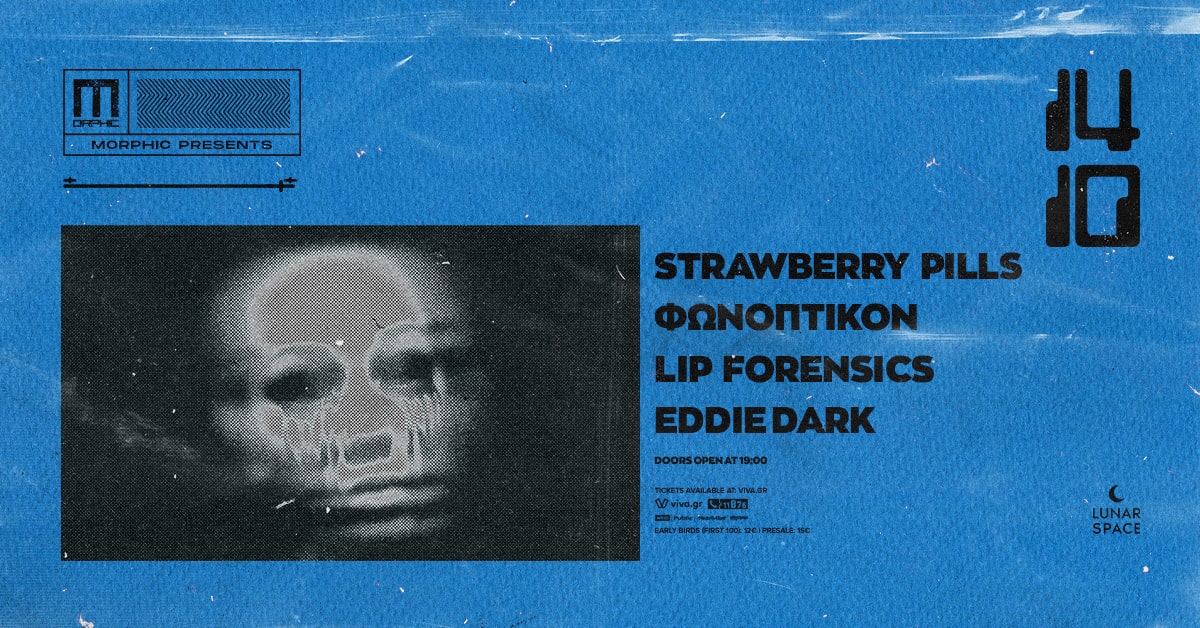 Dark synth beats, dark basslines, sharp lines from the synths, sci-fi visuals, compose the scene on Friday, October 14. Strawberry Pills, FONOPTIKON, Lip Forensics and Eddie Dark take over the Lunar Space stage to bring us their own dark urban legend.
Stawberry Pills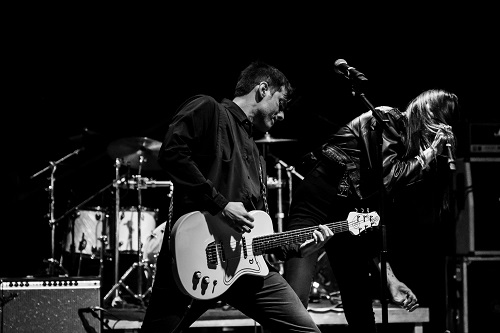 Strawberry Pills is a group from Athens. Their music is a mix of dark electro, minimal wave and coldwave. Valisia Odell and Antonis Constantaras are the two core members. They became known through their involvement in Phoenix Catscratch, with whom they have released an album entitled "Nectar & Wrinkles" (Dead Scarlet Records). In fact, two of the band's songs were included on the soundtrack of the film "Alpes", the Oscar-winning director, Giorgos Lanthimos. After the breakup of the group they continued to collaborate on various projects and in 2019 they decided to officially work under the name Strawberry Pills. In February of the same year they released the single "Verbal Suicide". The song was loved by several radio producers and as a result it was heard on some of the biggest stations in the country (Best fm, En Lefko, Nostos Radio, Sto Kokkino etc.), which introduced the duo to a larger audience. The song, however, was heard on radio stations around the world and featured in hundreds of Spotify playlists. Their only Greek-language song entitled "Ola Kaine" has also been played on radio stations all over the world, culminating in the airplay it got from K.E.X.R. from Seattle. So far, Strawberry Pills have appeared in several cities around Greece, playing at some of the most famous live venues (Cultural Center Stavros Niarchos Foundation, Technopolis of the Municipality of Athens, Gagarin 205, Fuzz, Six D.o.g.s.) and festivals in the country and nearby in names such as: Bauhaus (UK), The Jesus & Mary Chain (UK), She Past Away (TUR), THE KVB (UK), Molchat Doma (BY), Deus (BEL), The Soft Moon (US), The Velvet Condom (FR), Oberst Panizza (DE), Lena Platonos (GR), Blaine Reininger (US), Acid Baby Jesus (GR), Minami Deutch (JPN) etc. Their first album entitled: "Murder to a Beat", was released in October (2020) by Inner Ear Records with the first vinyl cut being sold out in just a few days. This period, Strawberry Pills are preparing their new album, setting up some new projects and holding concerts in Greece and abroad. According to the book "Release the Bats: The Story of the Greek Underground Dark Scene", Strawberry Pills are one of the hopes of the Greek dark scene.
https://www.facebook.com/strawberrypillsband
FONOPTIKON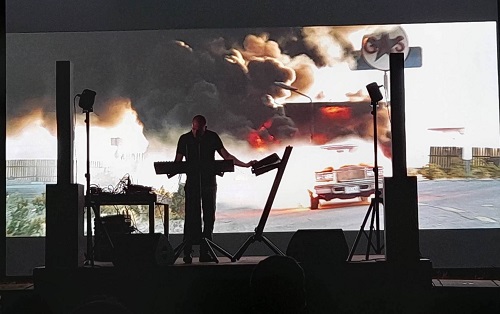 FONOPTIKON, (Stefanos Konstantinidis) known to the public through the founding of influential electronic projects (ΗΧΟΤΟΠΙΑ, Electroware), this time influenced by sci-fi culture orchestrates his minimal-synth-wave compositions. The dark basslines and techno beats meet scenes from sci-fi, neo-noir and retro cinema thus composing a unique audiovisual show.
Lip Forensics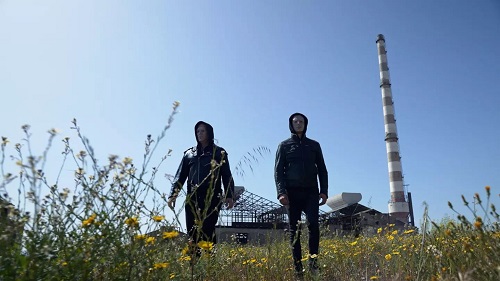 The electronic group Lip Forensics was created in Athens by Zade and Ekelon, two active members of the Athenian alternative scene. Their goal is to bridge their indie origins with the electronic sound of tomorrow, creating strong grooves framed by intense melodic elements. Their first release Cheiloscopy (Amour Records, 2019) contained, in addition to original compositions, remixes by Serafim Tsotsonis and Melorman. They have a strong concert activity with appearances at important festivals (Sonar Athens, Release Festival, SNFCC Music Escapades, Ziria festival etc.). The material for their second release is expected from Veego Records. Rorschach is the first single.
https://www.facebook.com/lip.forensics
Eddi Dark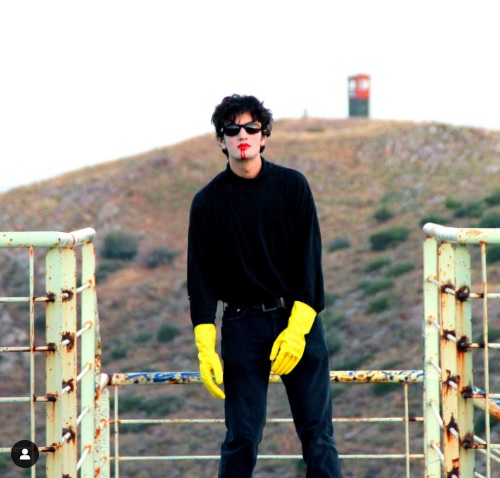 EDDIE DARK appeared for the first time in September 2021 and since then he composes mournfully happy melodies with a strong aesthetic from Horror B-movies of the 80s.
Influenced by the minimal synth scene of the past but also the freak wave / pop.
https://www.instagram.com/plastic_chameleon/
----------------------------------------------
Tickets: Early Birds (first 100): 12€, Presale: 15€
Pre-sale on viva.gr (Public, Wind, Media Markt, Shell, BP, EKO, Metro, My Market)
Online link:
Morphic Festival
Morphic Nights
LUNAR SPACE (Κέντρο Πολιτισμού Ελληνικός Κόσμος) Πειραιώς 254, Ταύρος. Είσοδος από Πολυκράτους 6 (στον ιδιωτικό δρόμο)
FREE PARKING
DOORS OPEN AT 19:00
Morphic Athens
TMR Entertainment Group