News
Details

Category:

Written by

Akill
Siva Six will be on stage on January 13th, Heraklion and January 21st, Athens!
---
Siva Six, the powerful dark electro, industrial band from Greece, will be on the road for two long-awaited shows.
On Friday, January 13th, 2023, Siva Six will present their unique, gloomy electro/industrial in front of their Cretan friends, at the Blow Up club in Heraklion.
Together with the Athenian band will be the mighty PreEmptive Strike 0.1, the dark electro/industrial project from Crete, which counts 20 years of amazing sounds and history. PreEmptive Strike 0.1 are in the making of some really great new music which is long-awaited and we are looking forward to it.
On Saturday, January 21st, Siva Six will take on Romantso's stage along with the dark ambient, downtempo. lo-fi sounds of Subheim and the cinematic industrial and rhythmic techno of Blakk Harbor.
-----------------------------------
Friday, January 13, 2023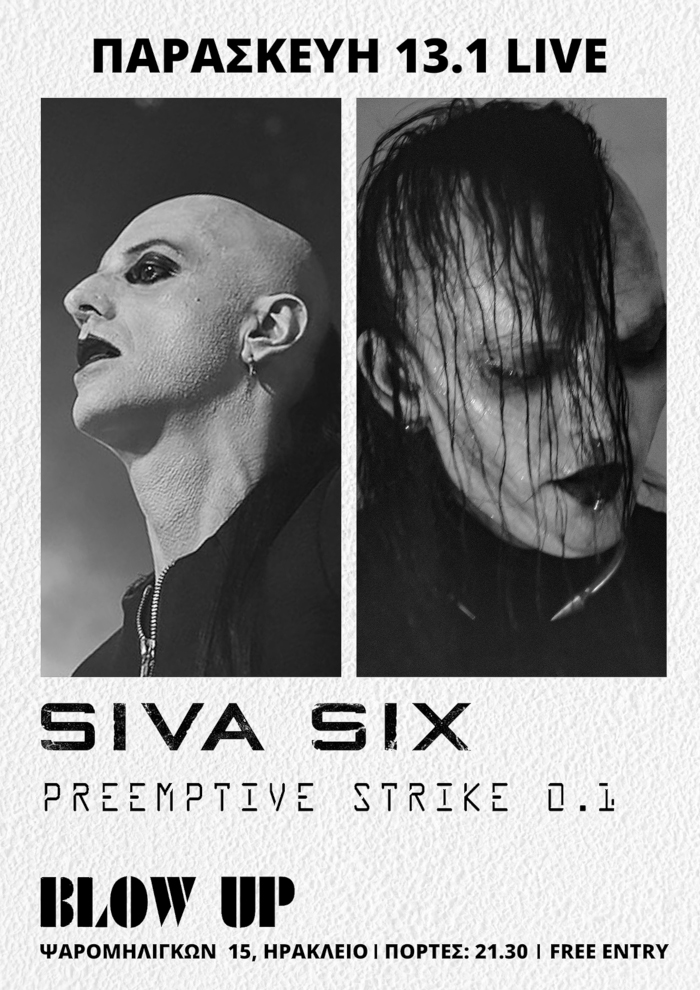 Club Blow Up presents Siva Six & Preemptive Strike 0.1 Live
Two bands of the alternative Industrial / Electro / EBM music scene. & after party DJ set
Friday January 13, 2023
Admission: Free
Doors 21:30
Blow Up: 15 Psaromiligon, Heraklion
SIVA SIX
Dark Electro / Industrial band Siva Six from Athens has been releasing sonic nightmares since 2005 (5 albums, 1 EP, 2 Remix albums and 1 Digital Single) Their live performances are characterized as charismatic, they are full of sweat, smoke and full face make up. In November 2021 their new album "DeathCult" was released by Alfa Matrix Records, probably their best release. Siva Six have performed in nineteen countries and shared the stage with bands such as Front 242, Suicide Commando, Type O Negative, Diary of Dreams, Die Krupps, Clan of Xymox, Theater Of Tragedy, Apoptygma Berzerk, Hocico. Their songs have been remixed by more than 60 bands, they have taken part in more than 40 international compilations. Siva Six is the only Greek band to have reached the No. 1 position in Alternative charts (Italy-No. 1 @ IAC 1/2007) and has also entered the Alternative charts in the top 10 positions in Germany, Holland, Italy and Greece. Global airplay, club play and appearances at international festivals have established Siva Six in the dark/alternative music scene.
PREEMPTIVE STRIKE 0.1
The Dark Electro/Industrial band from Lasithi, With a 20-year career in the dark scene and with numerous releases on the biggest labels (Infacted, Metropolis, DWA), returns after 3 years to Heraklion for a unique live. At the same time they will present an absolute old school set from her first releases as well as new material that will be heard for the first time.
----------------------------------
Saturday. January 21st, 2023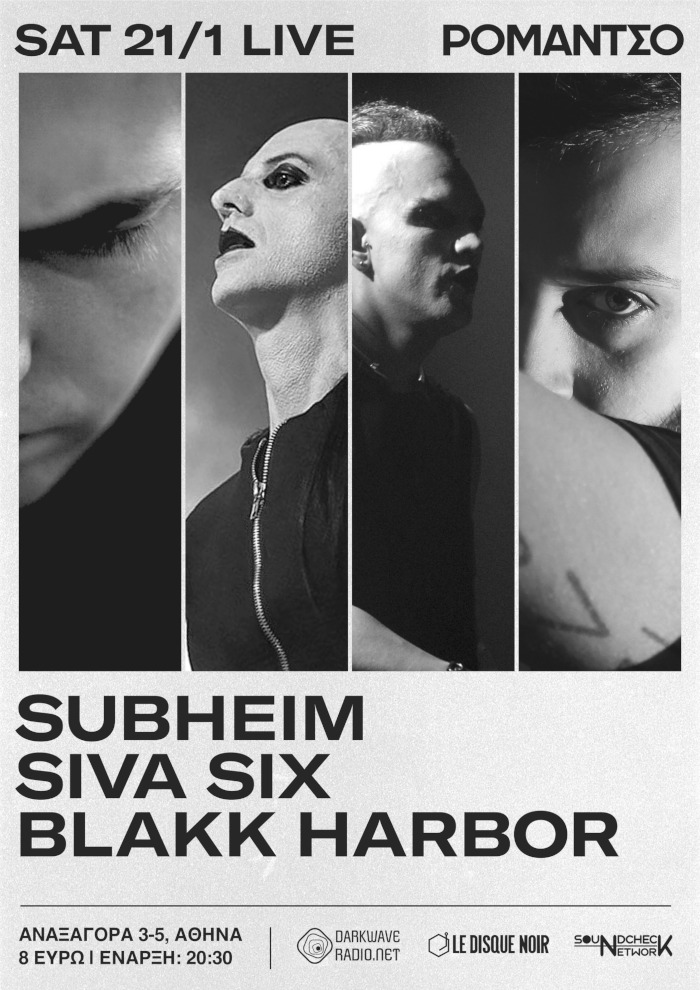 Downtempo / Dark Ambient / Industrial Techno / Dark Electro
Live acts:
SUBHEIM (Denovali)
SIVA SIX (Alfa Matrix)
BLAKK HARBOR (Ant-Zen, Mille Plateaux)
ROMANTSO: Anaxagora 3-5, Athens
Start: 20:30
Entrance: 8 euros
Tickets are sold at the box office
----------
SUBHEIM
Seven years after his last concert on Athenian soil, the Berlin-based Greek producer returns to his beloved city for a unique live performance on the ROMANTSO stage. He will present tracks from his latest album "POLIS" (2020, Denovali Records), new unreleased material as well as tracks from his entire fifteen-year discography. With influences from dark ambient, lo-fi electronica, post rock and trip hop, his unique sound will take us to dark, melancholic, cinematic landscapes.
https://facebook.com/subheimmusic
https://instagram.com/therealsubheim
SIVA SIX
The dark electro/industrial band Siva Six was created in Athens and has been releasing sonic nightmares since 2005. 5 albums, 1 EP, 2 remix albums and 1 digital single the account so far. Their latest album "DeathCult" is probably their best release. The Siva Six have played close to 100 live shows in a total of 19 countries. Their live performances are full of energy, with intense theatricality and the band's special aesthetic. They will play material from their entire discography.
https://instagram.com/sivasix_official
BLAKK HARBOR
Angelos Liaros is a music producer and lead sound designer at Germany's Native Instruments, with a rich discography on internationally recognized underground labels such as Ant-Zen, Mille Plateaux, Fleisch (Zanias). As Blakk Harbor, he masterfully combines dark, cinematic industrial with rhythmic techno breaks and complex sound design. At ROMANTSO, he will present his own live material as well as original floor mixes infused with electro breaks and relentless EBM basslines.
https://blakkharbor.bandcamp.com
https://facebook.com/blakkharbor
https://instagram.com/blakkharbor
Media Sponsors: