CD Reviews
Details

Category:

Written by

Akill
Empirion - Resume
August 2019
Dependent Records
---
Old school electronic duo, Empirion, returns with "Resume"!
I could say that Empirion could stand among the legends of electronic music, although they haven't released as many albums as their fans would like. Having started their music path back in 1993, at the pinnacle of the acid house scene in the UK, they are absolutely influenced by that specific period and the main electronic and EBM genres of this time.
Empirion members are Oz Morsley and Jamie Smart and they are coming from Essex. One of their main influence is one of the greatest electro band of Essex, The Prodigy.  Actually, everything begun when Jamie was touring with The Prodigy as a tour support DJ. Their massive hit, "Narcotic Influence", came out back then, which voted in to the top 100 dance tracks of all time as according to dance music bible Mixmag.
In 1996 Empirion released their debut full-length album, "Advanced Technology". A while after this release and along with the remixes they made to some of the greatest bands, they had gained the attention of the electro community. Remixes for bands like Front 242, Fluke, Praga Kahn, China Drum, Cubanate and the immense remix of The Prodigys 'Firestarter' put the band on the front foot towards the late 1990's.
It is necessary to say that Empirion started as a trio. The third member was Bob Glenie who, unfortunately, was diagnosed with cancer in 1997, and he lost this unfair battle in 2005.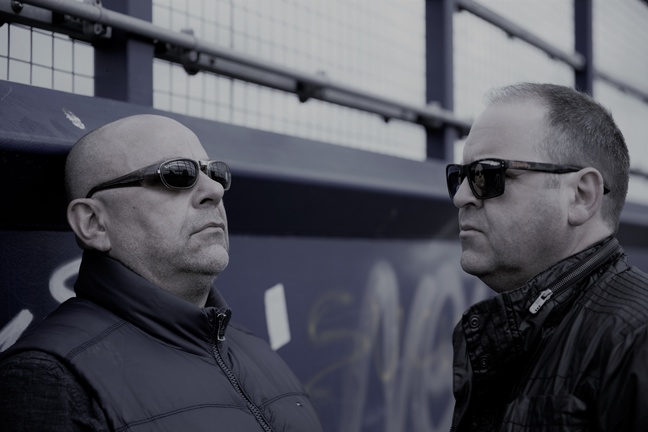 Now, the time has come for Empirion and their new full-length album, "Resume", coming out on August 23rd.
"Resume" is their second album, coming out 23 years after their debut, and to my ears is the perfect electro, dance, EBM, come back. There are not many bands having gained so much respect with just one full-length release and this fact makes this album really anticipated from a huge electronic music fanbase.
"Resume" is an 11-track album including some strong beats, fine electronic tunes, catchy synths and melodies and old school EBM and electro elements. It starts with the same titled track, giving a clear influence of their fellows, The Prodigy, which is obvious and in the rest of the album. "Resume" floats into the second track, "S.E.T.I.", a collection of breaking beats with melodic synths and a robotic voice calling "Empirion".
"They 'Re In My Dreams" comes next and the beats are getting stronger flirting with some Nitzer Ebb style drum-lines and music. Definitely one of the club hits of "Resume".  "Red Noise" has been already released, back in September 2018, as an EP, along with another track, "I Am Electronic". "Red Noise" has this distorted synths and electro elements, while the beats and the voice could make you think Front 242 is somewhere into this. "Too Many Masters, Part II" is building some soundscapes with its melodic synth-lines.

"Stepper" begins with a slow intro until the beats starts in up-tempo, to lead us to some distorted synths and to an intense atmosphere. "Sidesweep" and "Lock it Down" are two of the tracks that showing the EBM side of Empirion and all these influences of the 90's industrial bands, some of which they have remixed.
"I Am Electronic" is the second track that was previously released back in 2018. The robotic style vocals with the line "I am not Human, I am Electronic" giving you a direct intro to the strong, breaking beats of an, already, industrial club hit! "A.D.S.R." is another strong electro track with a pounding beat and an aggression and distortion in vocals, while the closing track, "Hate the Hate" is a statement of the band against hate. A track with an intro building a dark ambience with some synths and beats including the words of Khalid Muhammad, leading to a strong dark electronic rhythm.
Empirion's return with "Resume" is one of these albums that, if you are a fan of the electro, acid house and EBM, you have been always expecting for. A band with a great impact back in 90's, which you would always wanted to listen to their new work. And, finally, is here. And is great. An electronic "must have" for everyone who still loves the power of the electro scene from 90's. For those who love The Prodigy, the Future Sound of London along with those who are still dancing and sweating with the sounds of Nitzer Ebb, Front 242, Cubanates and many other EBM bands.
"Resume" will be, also, released in a limited format, available as a 36 page hardcover artbook edition with an exclusive 6 track bonus CD.
Info:
https://www.facebook.com/empirion.music/
https://en.dependent.de/artists/empirion/empirion-resume-dependent.html
https://empirion.bandcamp.com/album/resume