CD Reviews
Details

Category:

Written by

Geisterwelt Team
Mark E Moon - Lux Vindictae
April 2022
Cold Transmission
---
Mark E Moon are back with the 6-track EP, "Lux Vindictae"!
Mark E Moon surprised us once again with the great new EP album "Lux Vindictae" which was released on April 8th 2022 by Cold Transmission and of course you can already find in physical and digital copies. Music between gothic rock, post-punk and synth / dark-wave that haunts you asking to hear it out loud.
Mark Sayle's deep voice combined with the guitars, synths and female vocals of the new member Shelley Rourke creating a great dancefloor atmosphere. The new EP album includes 6 songs with powerfull themes like depression, alcoholism, the murder of a child, rage and aggression. The key to a successful track is to tie the lyrics to the music, so that it hits the ear rhythmically and at the right tempo. This time, Mark E Moon with this album they've done it x 6.
The first track, titled "Blacklight" starts off with a lot of guitar and a bittersweet melody. The perfect gothic rock intro. The second track comes in with an even more powerful lyrical tone and is titled "Revenge". Next track is "Erika Dane" and the electric element mixed with guitars, are perfectly integrated with the choir in the background.
The fourth track is titled "Drowning" and has an atmosphere that reminds a bit of Sisters of Mercy, but with an even more unique sound that gives the Mark E Moon "stamp". The fifth track is the one that stood out for us, and it has the female name "Anastasia" and has already made it into our setlists. We also really liked the closing of the track with the Russian lullaby. "The Awakeners" is the sixth and final track, melancholic and ideal to close this - already favorite – album.
You can enjoy Mark E Moon performing all these fantastic tunes on Cold Transmission festival in Cologne! (19-20.08.22). More infos: https://www.coldtransmission.com/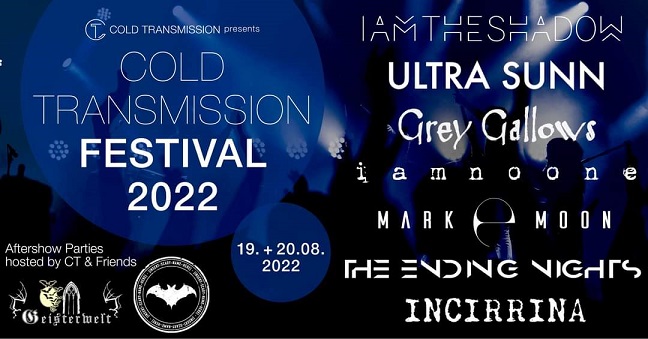 Info:
https://markemoon1.bandcamp.com/
https://www.facebook.com/MarkEMoon1