News
Details

Category:

Written by

Akill
Release Athens 2023 announces and welcomes Stereo Nova (Στέρεο Νόβα), on Saturday, July 15th.
---
One of the most important Greek bands of all time, will rightfully be headliners in a big festival night with an impressive production and correspondingly spectacular audiovisual show, which will contain music from their entire discography as well as from their new single that will be released early June.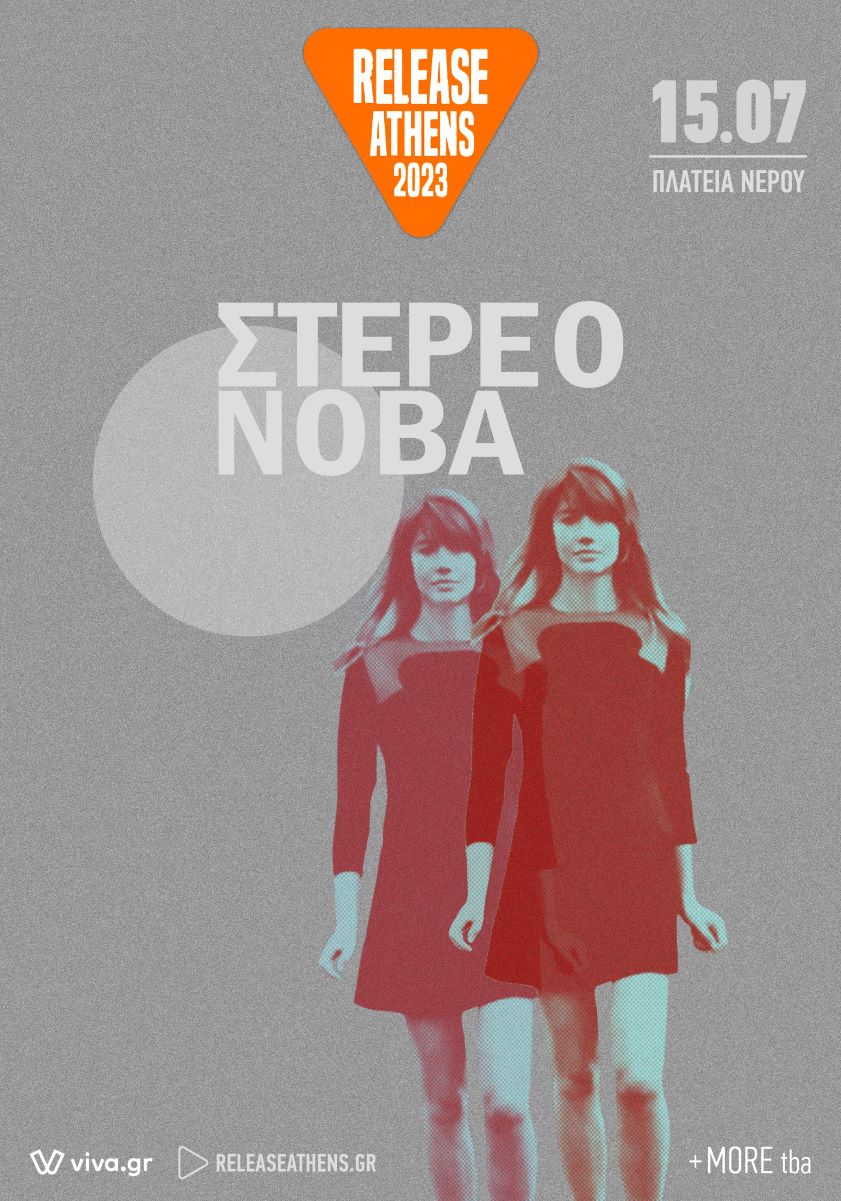 More names will be announced soon.

It may be an unbearable cliché but Stereo Nova, i.e. Konstantinos V. and Michalis D., appeared in 1992 almost out of nowhere and were to change the history of the domestic music scene forever. With an absolutely DIY aesthetic and after several rejections from record companies, they release their self-titled, first album and not only define an entire generation but reveal to it a new era and culture, which was still part of a nascent but small underground scene. The explosion of the Athenian clubland would not be long in coming and in the words of Konstantinos V. life in a modern metropolis was reflected, from the semi-illegal parties to the loneliness of the next day and the stress of everyday life.

The group's first period would give us four more records, each of them a distinct deposit, with a range of sounds and songs that never ceased to be relevant and sound modern and sharp. "Discolata" (1993), makes them famous thanks to songs-anthems such as "Nea Zoi 705", "Pazl Ston Aera" and "Mikro Agori", while "Wireless World" (1994) definitively places the shape at the top of the domestic scene. The next step, the landmark "Telson" (1996), is their magnum opus, one of the most complete and ambitious works of the Greek discography, which was presented in a now legendary concert (in the packed Rodon) that united all musical tribes of Athens. The release of the equally masterpiece, "Vitamina Tech" (1997), marked the end of Stereo Nova and the beginning of their solo careers.

Almost twenty years had to pass and we got to 2018 for a new cycle to open for the group. Stereo Nova returned to the discography in the same way they appeared in the 90s: without anyone expecting it. "Uranos", their sixth album, is another exemplary work and a strong proof of the special place they hold in the history of electronic music in Greece.

In June, they will release a new single, the tracks of which they will present at the July 15th show, among all those songs that have indelibly characterized their career to date. With them, Petros Tsaparlis will be on drums, while Nikos Patrelakis has taken over the video and artistic editing. We are especially happy to welcome such an important group to the Stage of Water Square, which may appear rarely but when it does it offers a unique experience.

Follow Stereo Nova:
Facebook
Spotify
 
The pre-sale starts immediately, for €20. The next phases will be announced later.

Also, limited VIP tickets are available, with an initial price of €80. This category includes the following special benefits: Separate raised area with stands & stools for everyone, open-bar, priority access to the area, private parking, separate toilets, souvenir gift.
 
Ticket availability:
 
By phone at 11876
Online at releaseathens.gr / viva.gr
Physical locations: Wind, Public, Media Markt, Evripidis, Yoleni's and Viva Spot Technopolis stores
All info at releaseathens.gr
 
Follow Release Athens:
Official Website
Facebook
Instagram
TikTok
YouTube
Spotify
Twitter