CD Reviews
Details

Category:

Written by

Akill
Paradox Obscur - Singles & Rarities
March 2021
Metropolis Records
---
Paradox Obscur's new chapter starts with snapshots from their past. After the great news and the announcement of the collaboration with Metropolis Records, Kriistal Ann and Toxic Razor give us their first release via Metropolis.
Having the sound of their 2020 album, "SYNΘESIS", still fresh and playing in my ears, there comes the "Singles & Rarities" collection album from the successful dark wave duo, Paradox Obscur. I must say that I was really curious for this release, since it would cover the music course of the band from the early years and it would be an overview of their variations in their sound and in between their full length releases, until today. And yes, this album is a collection of unique minimal electronics aesthetics and dark wave, dark disco acoustic. "Singles & Rarities" came out on March 12th, and it is the proper way to start this new big step for the duo, prior to their upcoming, completely new album.

"Singles & Rarities" is a journey in time with Kriistall Ann and Toxic Razor in the driver's seat. This experience starts with "Existence" where we find Toxic Razor responsible for the vocals. With an electro pop tempo, the minimalistic elements are filling the soundscape. A balance in the cold vocals of Toxic Razor and the vintage synths. "Visions" unfolds the dark minimal trade sound of Paradox Obscur and the unique voice of Kriistal Ann. An analogue imagery escorted by the drum machine. "Boulevard Voltaire" unveils the darkest sides of the duo with one of their most triste sound and song.
"Fatal" adopts a quite more dark, haunted electro arrangements and melodic early industrial sound. "Tranquil" keeps this dark melodies, with a cold romantic sense and story in the words that the duo sings. "Tale" is another sad story, "dressed" with the minimal electronic sound, while it is a proof of Kriistal Ann's vocal capabilities, becoming haunting and sirenesque. "Perpetual" has this electro, future, dark pop synths and beats, quite higher in the tempo, with the duo's techno influences being obvious. "Resurgence" is another one with α dark pop-ish ambience, but still retaining the minimal electro parts.
"Superbia" is coming from Paradox Obscur's hidden dancefloor hits. The moment you press play, the beat hits you in the head. With an uptempo sound, the mood gets you back to their "Dark Fortress" hit. Here the vocals is on Toxic Razor, enriched with a distant, light distortion. "Perish Wisdom" is going to the old school dark electro paths, another one of those that will make you dance in between analogue sounds and unique vocals. "Entropy" brings this disco side and influences, which gives you a nostalgic emotion for dark disco and video game tunes. "Throbbing Gallows" is closing this collection with the darkest atmosphere. Low tempo soundscapes through mist and darkness.
"Singles & Rarities" is the debut release after the duo's signing in Metropolis Records and is an album that presents Paradox Obscur's inner sides and dark faces. Emotional dark, cold lyricism, electronic waves and minimal art. Toxic Razor and Kriistal Ann are coming back from the future and expose their roots. Once again a unique release from the Greek duo.
I could not resist, and asked Paradox Obscur about all these that brought the successful duo to the hands of Metropolis Records, with a special collection release unveiling the music story since their beginning. A chat with Toxic Razor and Kriistal Ann, so quick but so interesting and informational.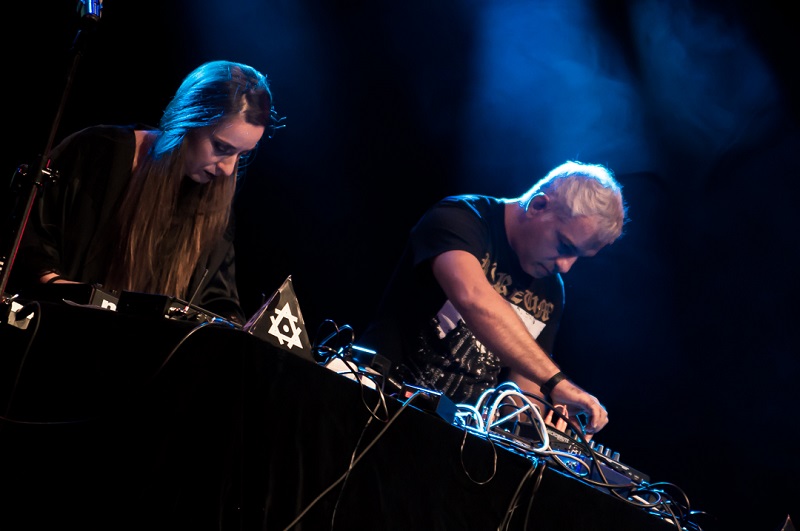 ES: We have been listening to the new album for a while now, in ElektroSpank HQs. And we have been diving into each every note and every word. There is an amalgam of all sound varieties of the band throughout these years. Which would you consider to be the turning points in Paradox Obscur's way to today, and which songs out of "Singles & Rarities" represent those points?
You can consider us lucky, because we started this project, a step before the oversaturation of this kind of music. Without pursuing anything specific, all we cared about was satisfying our craving for music. We had no idea where it would end up or where the path would take us. And yet, as soon as we released our first 3 songs which shared to the public via our social media, a rain of messages of interest for our music immediately broke out. People from all over the world, DJs and radios wanted to know more about us.
In our second EP entitled 'Noir', with the song 'Dark Fortress' and the help of Emmanouela Charatsi in creating the video, launched this project.
ES: Cold waves, icy emotions, dark ambience. Minimalistic synths, addictive electro elements, vocals deep and dark on the one hand, cold and emotional on the other. But every time Paradox Obscur show us a new element, a new face, a new sound. What else does the world of Paradox Obscur hide? What makes hardware music take so many different forms? How do you adopt these differences and bring them out in music and song? Or is it working vice versa? Are the elements adapting to the creators voice, emotions, lyricism?
When it comes to composing and recording new music we usually come up with a basic bass line/drum pattern which we evolve and complete it after various adjustments to the final track. All synth parts/basslines/arpeggios/fx etc are recorded in real time as we would like to give a live feeling to the compositions , having in mind to capture the inspiration of the moment without sounding clinic and sterile.
We have also recorded a totally live set with the use of multiple hardware synths and drum machines with many improvisations which resulted to an album of 6 tracks all made from scratch and which we plan to release at some point in the future.
Fact is we enjoy a lot the element of surprise when it comes to recording or rehearsing and this is a characteristic that's reflected in the music as well.
ES: The story of Paradox Obscur could be described as the road to success. After many years with full length albums, EPs and Singles, there comes the deal with Metropolis Records. This is just the result of your work. How did you manage to reach that, though? Which would you think that were the keystones that got the attention of major labels? Which were the difficulties in this path? And what would you suggest to other bands, trying to make it to a more global acknowledgement?
Getting signed to a label with the status of Metropolis is a very pleasant evolution for us but we had to go through various complicated situations to get us here and countless hours of working in our sound.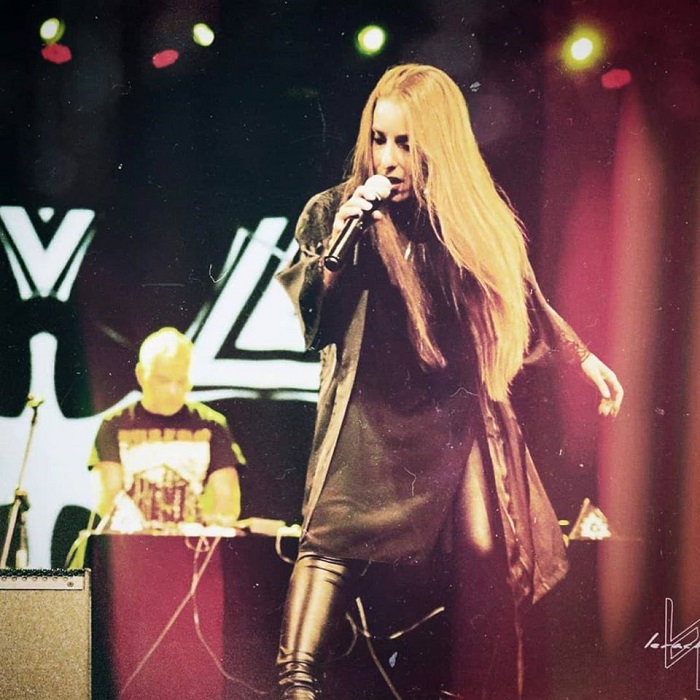 Beyond that, Metropolis had approached us earlier in 2018-19 asking for our contribution to its two compilations. One of these is the so-called 'Why Kill Time (When You Can Cover Cabaret Voltaire)' where Kriistal Ann participated with her solo project, as well as in the 'Dark Nouveau' compilation compiled by the publisher Mr Athan Maroulis, with the participation of well-known bands of the dark scene where we contributed with the song 'Flesh'.
You can never reach an end with music as you can always experiment and find ways to evolve your craft, it's all about the connection of the human inspiration/imagination/spirit blended with the capacities the hardware instruments grant to make a vision come true.
The road can be long with difficulties emerging mostly from the place a band comes from and especially for countries like Greece that show a significant lack of support in the alternative electronic music scenes plus the limited options for playing live shows in domestic ground.
Our opinion is that a band needs to personalize its sound and not trying to copy others, this is a point that can work beneficial for a band, having managed to create their own characteristic unique sound that can also have better impact when it comes to the attention of record labels.
ES: Thank you very much for this chat and for the beautiful music moments. Would you like to add anything else? Something for your fans, the followers and the readers?
Thank you for the invitation at ElektroSpank! We would also like to send greetings to all the people that have supported this project so far and to all the fans out there, looking forward to see you on the road!
Info:
:
Bandcamp: https://paradoxobscur.bandcamp.com/music
YouTube: https://www.youtube.com/channel/UC9C-oF5Uh45IJKHHnOSQazQ
Spotify: https://open.spotify.com/artist/25xk4G8ue1fryBd3ac1Qw3?si=td0bFFRKRL-oEImZS7TW-Q
Facebook: https://www.facebook.com/paradoxobscur
Instagram: https://www.instagram.com/paradox_obscur/?hl=en
Soundcloud: https://soundcloud.com/paradox-obscur