Interviews
Details

Category:

Written by

Akill
 Corpus Delcti are back, bringing their unique death rock, goth rock sounds and all these emotional gloominess!
---
When everything was heading to a heavy guitar gothic rock sound with deep vocals in the traces of legendary gothic rock bands of the early 1990s, there was a group of kids based in the non-gothic territories of Nice, France who had this vision. To create a sound that had the strong darkness of their influences, mixed in a unique death rock way and performed under real professionalism but totally passionate and goth.
Corpus Delicti were born creating their music with a way that perfectly fitted their name. A music about how they perceive the darkness of a human soul. The four-piece band consisted of musicians with a need to express these emotions they were carrying. The founding members, Sebastian (vocals), Roma (drums/synths), Chrys (bass) and Frank (guitars) manged to bring all the darkness out of their heart in three masterpieces, three full length albums in less than 5 years of existence. "Twilight", "Sylphes" and "Obsessions". Three albums that turned Corpus Delicti in one of the most legendary gothic rock bands and one of the most influential. Each of those albums hides its own bleakness, demonstrated in lines of raw death-rock lines, strong goth-rock riffs and dark experimantation.
Even after their disbandment, their music was so strong that made Corpus Delicti growing, affecting and inspiring more and more people, building a really loyal fanbase around the world, that even the quartet could not imagine or expect.
This reputation led Corpus Delicti to the announcement of their reunion back in 2020, starting with some rehearsals and talking about some live appearances! With the pandemic and the health problem of Roma everything had to be postponed. However a new amazing drummer, Laurent Tamagno, was found and with the guidance of Roma the quartet started playing again making all the old fans happy but most of all, making their newest fans squealing in delight.
On the occasion of Corpus Delicti reunion and their appearance in Athens, Greece for one and only show, on February 25th, at Death Disco club, I had this really interesting conversation with the frontman and the voice of the band Sébastien.
ES: Hi Corpus Delicti, hi Sébastien. I am really glad and honored to have you in ElektroSpank. I am certain that Corpus Delicti needs no introduction among our readers. However I would like to ask about one of the most awaited reunions back in 2020. What did happen back then and led you to this decision?
Sébastien: It's actually a series of events...First there was the signing with Cleopatra which allowed the four of us to get together and discuss it. Then Roma, the drummer, suggested that we meet in a rehearsal room to see what it would be like, 25 years later. And it must be said that the chemistry was still there, the emotion too, undeniably.

Photos by Fred Calone & Loic Swiny.
ES: Having been formed in the early 90's and reunited in the birth of 2020's which would you say are the main differences between those two eras in the gothic scene?

S: So, it's difficult to talk about the current gothic scene, because we know little about it. In the 90's, we followed the releases, listened to the new stuff, but not so much nowadays. However, since we started again, we have been able to discover some bands. We really liked Je T'aime for example, who opened for our Paris concert.
ES: How do these differences affect Corpus Delicti? Is there anything that you are doing differently now, than you did in the past?
S: It is the approach that is completely different. At the time, we were all around 20 years old, with an absolute desire to make a living from our music. Today, things are not the same. Our return is for us, unexpected, the aura that the group has taken is a gift, and we are on stage with the only goal to take pleasure and to give some.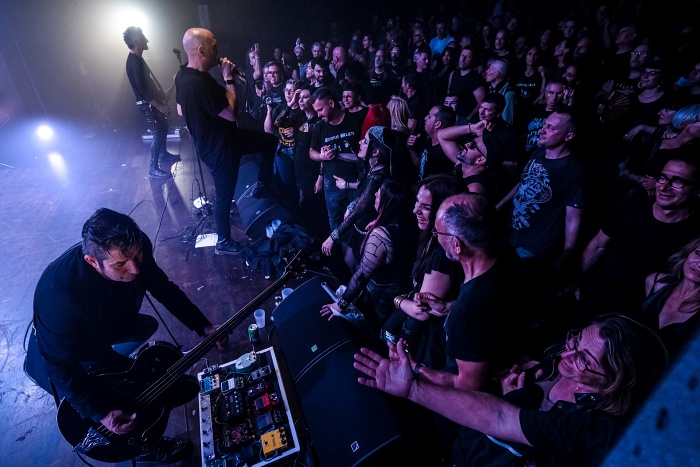 Photo by Philippe Pougetoux
ES: After Corpus Delicti reunion you started planning several live appearances. However the pandemic and the world isolation made you postpone your schedule. How was that time of being locked-down for Corpus Delicti?
S: It was a very strange time. First of all, of course, because of the pandemic, but also, in terms of the band, the moment when Roma started to develop osteoarthritis in her hands, which prevented her from playing, first a little, then permanently. We had to make the decision either to stop everything or to continue with someone else. We then thought of Laurent for the drums, an exceptional musician whom we knew well. He was able to work with Roma on a few rehearsals so that she could show him the specifics of her particular style of playing. The result, Laurent's investment, was far beyond our expectations and definitely motivated us to continue.
ES: The upcoming concert in Athens is closing a set of shows in Europe since after that you are heading to Mexico. What are your impressions after all these concerts in Europe, with half of them, at least, being sold out? How do you feel and what feedback have you received?
S: That's pretty amazing! Almost everyone was full, people our age, much younger, knowing the lyrics by heart... You could see on their faces their pleasure to be there, all this reflecting, of course, a lot of happiness. There is a real fervour during these concerts. And from our side, our investment is total: we want to present an energetic show, in which we are completely involved. I love interacting with the audience. I like to have things going on between them and me, I go looking for them, I talk in their ears... :)
ES: Let's go back in time. When you formed Corpus Delicti you were almost kids. Nevertheless, you created a sound that has characterized you ever since. What was your vision for the band, back then? What were you longing for?
S: Things happened completely naturally. Compositions came quickly, without too much headache. The carefree nature of youth, no doubt. We had high hopes for this band, and from the start, we decided to behave like real professionals, in our artistic choices, the people we worked with... Our image too, marked gothic, for sure, while trying not to do too much, to avoid clichés.
ES: Do you finally think you found what you were looking for then? Did you expect, in those years, that the name Corpus Delicti would create its own legend in the gothic and dark wave scene?
S: Just before we split up in the 90's, there was a certain frustration...we felt we had reached the end of something...like a glass ceiling that was impossible to break through. This contributed to our separation. But never at that time would we have imagined that our music would take off in spite of us...Our fame grew, without us doing anything, thanks to the internet and the networks.
When we think about it, we think that we certainly had the right songs that have survived the passage of time, but also because our music is quite rock, not too stereotyped and above all melodic. There's also a revival of post-punk bands in the last few years which has helped us a lot.
ES: You are coming from a country with a very special dark wave scene and history. And you have managed to be ranked and stand next to the biggest names in death rock and gothic rock worldwide. Did this affect you in any way? Either at that time or in the present, after the reunion?
S: It's quite nice to think that our music has left its mark and has been important for some. We like to talk to people after the shows and many of them tell us how much this song or that album has meant to them, how much it has accompanied them in their life. That's the best reward.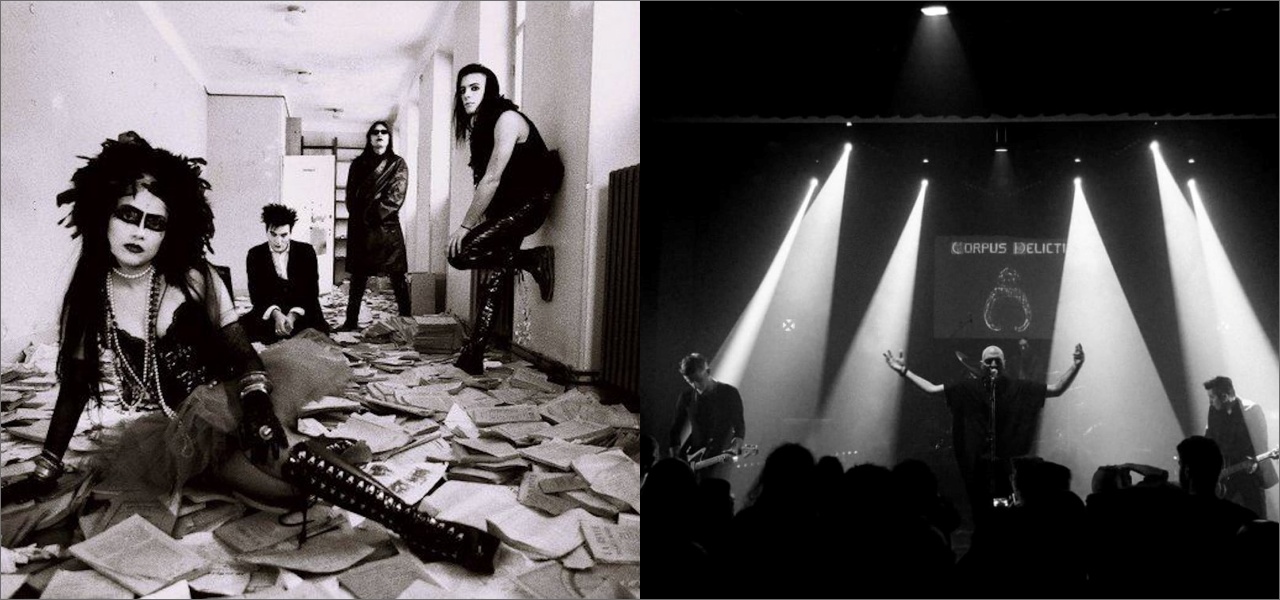 Photo 1995-Karine Bizi & by Loic Swiny.
ES: "Twilight", "Sylphes" and "Obsessions". Three full length albums in less than 3 years. Three albums considered masterpieces and classics in gothic rock. Can you tell us something for each one of them? A moment you remember the most, an influence or inspiration, a radical change between the three of them?
S: The time around "Twilight" was a year of pure excitement. Everything was new, especially for me: I was discovering the stage, working in the studio, and I understood then why I had this desire in me since I was 4 years old... "Sylphes" undoubtedly represents the moment when the group was the most united, and bathed in a real creative and artistic emulation. I have a very specific memory of the rehearsal during which "Saraband" was born. We were surprised by this title which we found very pop compared to our previous compositions, but we also felt that we had something special. For "Obsessions", we wanted to experiment more: we played tapes upside down, we broke bottles with iron bars in the studio, we did a 10-minute track with 5 minutes of rain...the welcome at the time had been more mixed, but ultimately, I think it has aged very well, perhaps better than the others and that it was, in any case, an ambitious album.
ES: I would like to stay there in the early 90's and ask you about the influences back then music-wise and lyric-wise. There is a sense, to me, that your sound was, or better, is a mixture of death rock and dark wave pioneers but in a haunting and doomer path with extra gothicness, in moments, in the guitars, while the drums of Laurence Romanini (Roma) make this gloomy sound even darker. Which were the influences and what were Corpus Delicti listening to back in the early years?
Of course, we had a common basis in what we listened to: The Cure, Siouxsie, Dead Can Dance, Cocteau Twins... Afterwards, each had their own universe and their differences. I listened to things that weren't necessarily gothic like Slowdive, Bowie and even the Smiths (Morrissey's texts accompanied me for a good part of my teenage years), Franck had a passion for The Sound, Chrys has always loved the punk wave of the end of the 70s, The Clash most of all, and even reggae. Roma, she was very inspired by Bauhaus, and Budgie, drummer of Siouxsie but I think she liked The Creatures even more for the tribal and percussive side .
ES: What about now? Are there any bands of the new era of dark-wave, post-punk you are listening to? What do you think of the post-punk revival of the last years?
S: There are always bands that appeal to us, not necessarily in the gothic or post-punk sphere, but never far away. I'm thinking of Interpol, Editors... For me, the one that has marked me the most in the last 10 years is the English band HMLTD. I find them simply exceptional. Their concerts are incredible, and the first album released in 2020 is a masterpiece, mixing glam, rock, electro, pop, industrial....
ES: After this tour, which are your plans? Is there any new material coming up?
The tour is not finished. We hope that it's just a beginning ! About new material, we don't know yet..We haven't worked on anything in that direction, but you never know…
ES: So first time in Athens and Greece. How do you feel? What can your Greek fans expect from Corpus Delicti in this show?
S: We feel excited !! We have discovered that we had an audience in Athens really recently, and that was a great surprise..as for Mexico ! We never visited these countries when the band existed, so it's gonna be brand new. From the show, you can expect…the classics songs you want to hear, but not only ! We also have chosen some we never played live in the 90's. We hope it will be intense, energic and with beautiful moments to share with the audience.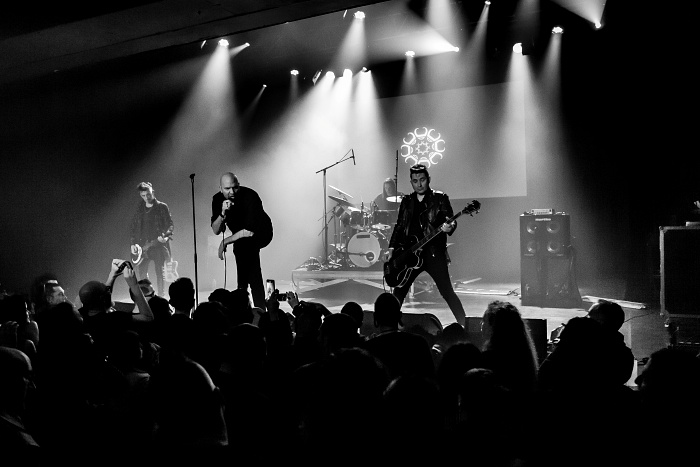 Photo by Loic Swiny
ES: I would love to keep asking so many things but sadly we need to close this conversation. Is there anything else you would like to add? For our readers, your fans, and your Greek fanbase?
S: Be there !! We don't want to do many dates, to keep them kind of exceptional, so don't miss this one. We will also have a few days off before the gig in Athens, so say hi if you see us wandering in the streets.
ES: Thank you very much! Looking forward to meet you in person and seeing you on stage!
Info:
https://corpusdelicti0.wixsite.com/band
https://www.facebook.com/cdelicti/
https://corpus-delicti.bandcamp.com/
https://www.instagram.com/corpusdelictimusic/
https://www.youtube.com/user/cdelicti