Death Disco Open Air Festival 2023
Details

Category:

Written by

Akill
On Saturday 22 and Sunday 23 July 2023, Death Disco is organizing the first Greek post punk / synthpop / darkwave festival in Technopolis - City of Athens. More bands announced!
---
Dates: Saturday July 22 & Sunday July 23 2023
Event: Death Disco Athens Open Air Festival 2023
Venue: Technopolis City of Athens
THE SISTERS OF MERCY
SHE PAST AWAY
ABSOLUTE BODY CONTROL
MECANO UN.LTD
THE SOFT MOON
ACTORS
SELOFAN
RUE OBERKAMPF
More bands to be announced, stay tuned!
2 days, 2 stages, 14 bands!
Pre-sales are on!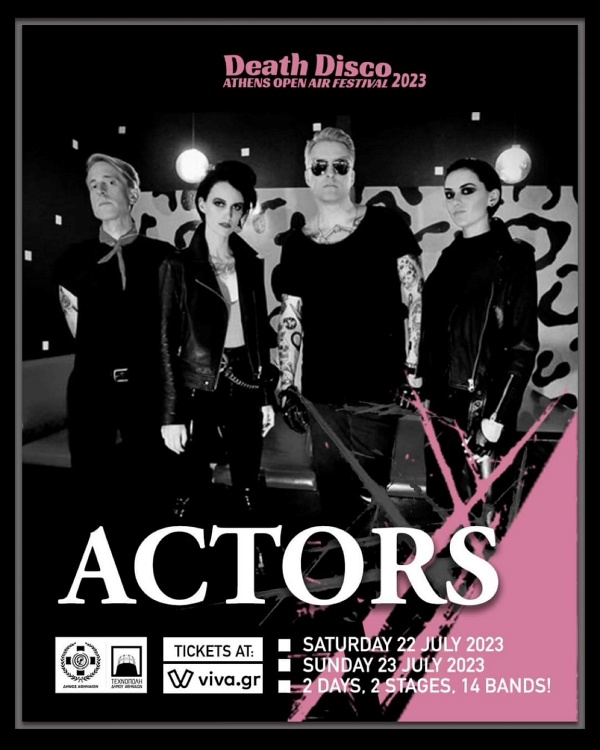 ACTORS
They are heading from Vancouver, Canada, and with their two masterpiece albums they are considered the most rising form of the Darkwave, post punk scene, climbing rapidly in the hierarchy of European dark alternative festivals. And this is not just a result of luck. The quartet of Actors pays attention to the last detail, be it the video clips, the dress code and even more so their sound, since Jason Corbet, the driving force of the band, is also one of the best modern producers. They are visiting Greece for the first time and are one of the bands that Death Disco recommends not to miss for any reason.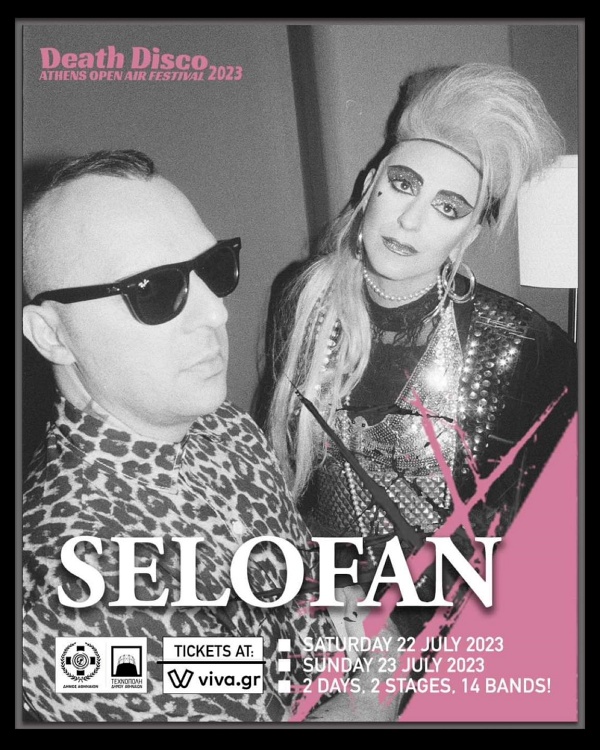 SELOFAN
Selofan is the #1 exported product of the Greek darkwave scene on the planet. With innumerable tours around the world, a rich discography and with one of the most important record companies in their possession (Fabrika records), Joanna and Dimitris have made the whole world look at them. At the Death Disco Open Air Festival they will present one of their rare appearances on Greek soil and in fact, this will be their first participation in an Athenian festival. And how could they be missing from this one anyway?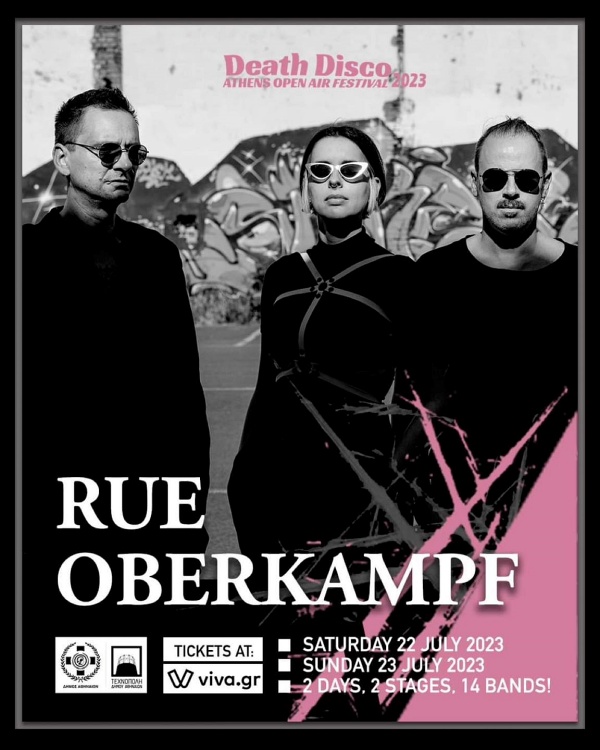 RUE OBERKAMPF
Rue Oberkampf is pure ecstasy. "You have to see them live," says – among others – rcn Magazin in 2019.
Founded at the end of 2016 by three DJ*s, the band combines 80s ecstasy with the atmosphere of fog- shrouded, strobe-lit dance temples of the techno era. The combination of urban electronic music's gritty drive with Julia's French-German vocals reminds some critics of a more forceful version of Anne Clark, Fisherspooner and Kompromat - yet at the same time it creates something entirely original. Rue Oberkampf forges a bridge between cold wave, synthpunk, EBM and techno. Their live shows pull audiences into a maelstrom of sound, neon and storms of light.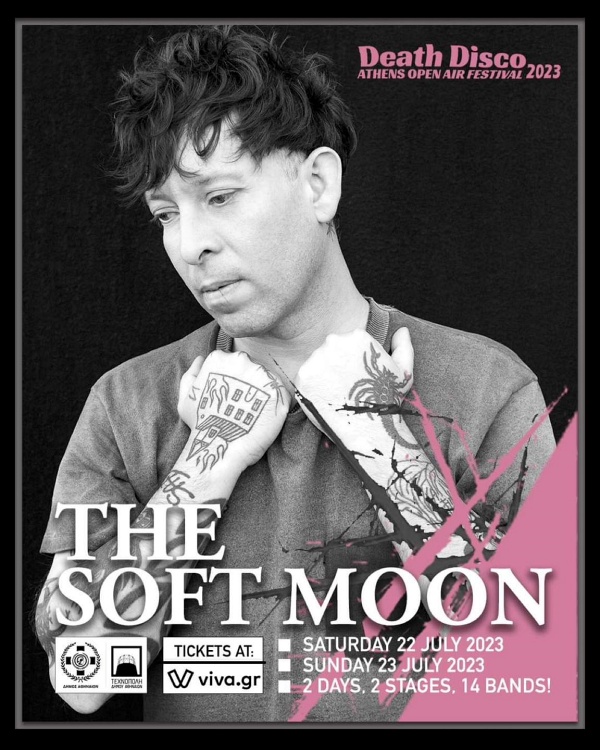 THE SOFT MOON
It would not be an exaggeration to say that Luis Vasquez with the Soft Moon carried a significant part of the darkwave and post-punk revival in the late 2000s. Their self-titled debut in 2010 shook the waters of the alternative scene and was the harbinger of a remarkable discography, full of highlights, which will hopefully reach its fifth part in late 2022 with the album Exister. There are no points of repetition or stagnation in the path of Soft Moon. The sonic evolution and the constant effort of Luis to externalize and exorcise his troubled past always creates a fascinating effect that watching him on stage seduces you into a vortex of emotions and primitive instincts.
Info:
2 days, 2 stages, 14 bands!
Ticket pre sales are on!
Technopolis City of Athens:
100 Piraeus st., 118 54 Gazi - Athens
Τel: (+30) 213 0109300, 213 0109324
E-mail:
This email address is being protected from spambots. You need JavaScript enabled to view it.
www.athens-technopolis.gr
How to get there:
By metro - line 3 (Blue line): Kerameikos station
By trolley: No. 21 (from Omonoia station), Fotaerio Stop
By bus: No. 049, 815, 838, 914, Β18, Γ18, Fotaerio Stop
Two-day early bird tickets are already on sale in the viva network: