CD Reviews
Details

Category:

Written by

Akill
Apoptygma Berzerk - SDGXXV
Pitch Black Drive Productions
March 2019
---
Apoptygma Berzerk is back this year with a remixed re-release of  Soli Deo Gloria.
The latest album reviews here in ElektroSpank is about new releases from legendary and pioneer bands in dark electro, industrial scene.
The case of Apoptygma Berzerk's "SDGXXV" is another one, but with a major difference. APB returned this year with the album that made them known to the industrial-scene and, to many, this album and Apoptygma Berzerk, has always been a pillar to what later became known as future-pop. Speaking of Soli Deo Gloria, it is the debut album of Apoptygma Berzerk, released in 1993. Since then it has been re-released, remastered and reissued in 2003 by Tatra Records, in 2007 as a digital release and it was again re-issued as a deluxe remaster edition with a digipak cover in 2008. It is one of these albums in electro scene that, hopefully, will continue to be re-issued since every piece of it is a masterpiece.
Coming back to present days and the latest release of Apoptygma Berzerk, "SDGXXV", we have another reissue of their first album, completely different than the previous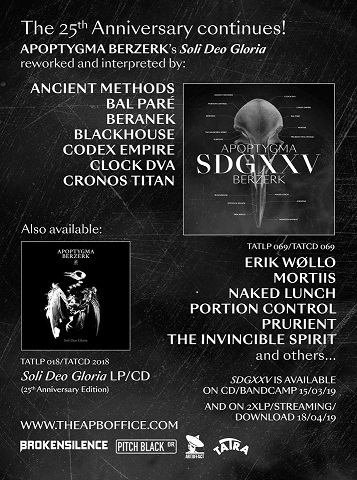 ones. In SDGXXV we face a complete transformation of Soli Deo Gloria to another masterpiece, based on the same elements and the roots of the original. But in SDGXXV we have the "touch" and addition of great bands and artist to the original tracks.
To me, this is exactly how I wanted Apoptygma Berzerk to evolve in difference with the way they chose with the release of "You And Me Against the World" in 2006, adding more guitars in their sound and going to a more indie-rock side and style of dark electronics. 
In SDGXXV all songs of Soli Deo Gloria have been mixed from different artists. We also find some songs remixed more than once. Every and each one of those remixed versions is totally unique, keeping the same tension of the originals and adding the elements of the artist remixing the song. And there was no way that it would be different since all the bands, artists that contribute on this album are really great. Some very well known to most of you, some other not so, but still excellent additions. And that means one thing. That Stephan Groth, the mastermind of APB, has chosen carefully the remixes that included in "SDGXXV".
To start talking about some of the tracks, I will start with one of my favorite APB's songs, "Stitch". "Stitch" is found with three different remixes in the album and every one of them is unique and beautiful. "Stitch" is remixed by Cronos Titan, ClockDVA, and O/E. Dark electro at its best in every of these versions. 
In "SDGXXV" we find various forms of dark electro and industrial. I will refer the dark ambient, martial and doom electronica in the remixes such as the one of Mortiis in "Walk With Me", of Blackhouse and Pruvient feat. Maniac in "The Sentinel" to the completely Diabolic Mix of Bal Pare in "Ashes to Ashes", a completely different view of an aggressive original version.  "Backdraft" is remixed from the legendary The Invincible Spirit, with a really close to the original song, mix but very well performed and from Codex Empire to a really dancefloor hit transformation.
Then, we can hear to a Kraftwerk tone in Beranek's remix of ARP, a quite more techno, industrial version of Burning Heretic from Ancient Methods, an old school sense of Spiritual Reality from another legend band, Portion Control. "Borrowed Time" is performed in a more experimental way from Atropine, while "Skyscraping" is turning into a more pop/synthwave version from Monster Aparat. "Like Blood From the Beloved (Part 1)"is performed by Steven R. Sellick and closing track "Like Blood From the Beloved (Part 2)" by a Norwegian composer, Erik Wollo.
"SDGXXV" is an album that really surprised me. It made me love again Apoptygma Berzerk while it reminded me one of the best albums in electro/future-pop history. A remixed reissue of a great album, in which we find great bands and artists of the dark electro, industrial scene, but not only. Usually I am very cautious with this kind of albums, which is a remixed version of an older release. But "SDGXXV" is really worth of our attention and gives another view of some really good songs, transforming them to totally new tunes, unique and interesting. If you are a fan of the early years of Apoptygma Berzerk proceed without any hesitation and consideration.
Info:
https://www.facebook.com/ApoptygmaBerzerk/
https://pitchblackdrive.bandcamp.com/album/sdgxxv