CD Reviews
Details

Category:

Written by

Akill
Blind Delon - Chimeres
September 2020
Manic Depression Records / Icy Cold Records
---
Synth wave that sounds more post-punk than ever!
Blind Delon released their new album, "Chimeres" in September 2020 and, in this 8-track LP, the French duo perform perfectly what they represent. Post-punk that is enriched with strong synth melodies and creating a filthy dark ambience, balancing between the cold darkness and the raw punk power.
Blind Delon formed back in 2016 by Mathis Kolkoz and now consists of Mathis Kolkoz and Coco Thiburs, they have already released three albums and a number of singles and EPs. Their sound is influenced, mainly, by post-punk arrangements, combined with synth-wave tunes and attitude. The duo from Toulouse is now working with Manic Deppression Records and Icy Cold Records and they offer to the dark wave lovers an album with strong emotions and the power of the Greek mythology's creature, Chimera.
"Chimeres" starts its journey with "Elle". In "Elle" we enter at once, in the darkness of the Blind Delon's mood. With a strong bass line and the deep vocals we reach an almost gothic ambience. "Cigarette" seems to be exactly where the duo stands, emotionally. Melodic synths and a discreet guitar melody which ends in a dark indie riff, filling the beautiful vocals.
Then we meet the raw post-punk arrangement in "Sinistrose". Featuring the French alternative rock, indie band, Cathedral, "Sinistrose" gets as angry as the duo wants, while the combination of the synths and the guitars makes the song moving into synth-punk. "Tes Levres" is a melodic dark wave, filled with romance. While emotional, moves into the punk paths of the band with a turn to an uptempo tone with sharp guitars and beautiful bass. "Mourir Seul" keeps the melodic parts, becoming more depressive and sad. The synths creates this cold sadness, with the guitar outbreaks adding the depression.
"Outrage" flows with anger, rage and contempt. Here is the real anger of the duo. Powerful synths, and beats, edgy guitar riffs, and some angry, defiant vocals. A melody that can lead you even to harder sounds and genre is closing the track. "Noire (feat. Girl Sweat)" moves, mainly, in the electronic parts of the band, keeping the darkness, while the touch of Girl Sweat, an experimental garage noise project from France, is obvious. "Tu Vois Le Monde (feat. Marius Mermet & Paulie Jan)" is the closing track of "Chimeres". Another, quite, more experimental track, balancing between dark ambient and dark, synth wave. Ambient, melodic synth lines reminding the sound of Paulie Jan who is featured while there is a post-punk breaking beat and guitar.
"Chimeres"can be many things. Blind Delon perfectly named their album using this creature with the such differences in its body. You can put any label you want in "Chimeres". Whether you call it dark wave, synth wave, post-punk or even goth rock and dark indie, all of these, could define this album. I say, it is a collection of cold, dark sounds and raw post-punk elements, perfectly combined and filled with the magnificent synth lines of Blind Delon. Blind Delon continues to give us their unique view of post-punk, performed through cold noisy synths.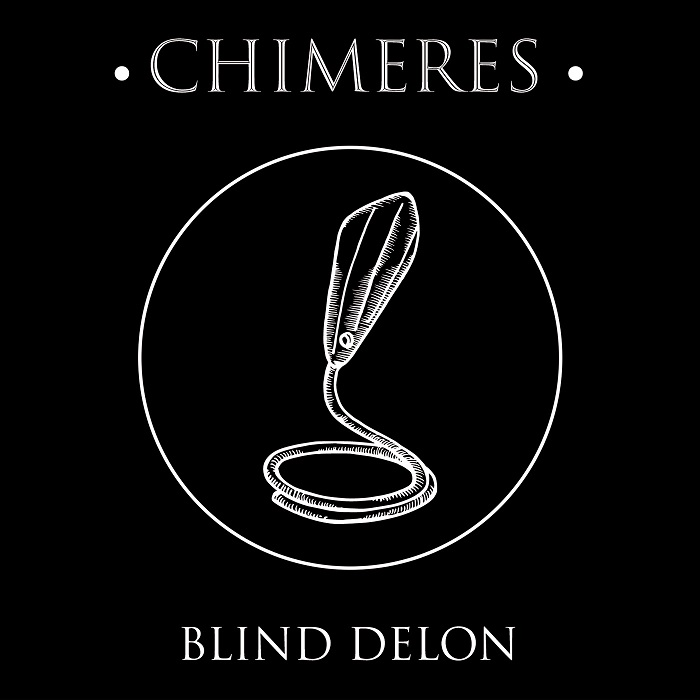 Info:
https://www.facebook.com/blinddelon/
https://www.instagram.com/blindelon/
https://blind-delon.bandcamp.com/album/chim-res
https://manicdepressionrecords.bandcamp.com/album/md123-blind-delon-chim-res
https://icycoldrecords.bandcamp.com/album/icr040-blind-delon-chim-res
https://soundcloud.com/blind-delon
https://www.youtube.com/channel/UCR9C5DjiM8k_Y3uguPeo2UQ